Ventricular fibrillation (VF) occurs when there are uncoordinated contractions within the ventricles of the heart. The primary cause of VF is hypoxia (lack of oxygen) to the heart muscle, which causes hyperirritability in the cardiac muscle tissue.
As a result, multiple muscle cells within the ventricles simultaneously fire as pacemakers causing a quivering or fibrillation that is ineffective for adequate cardiac output.
The two images show what ventricular fibrillation will look like on an EKG rhythm strip.
VF can rapidly lead to heart muscle ischemia, and there is a high likelihood that it will deteriorate into asystole.
Ventricular fibrillation is treated using the left branch of the cardiac arrest algorithm. Click below to view the cardiac arrest algorithm diagram. When done click again to close the diagram.
Cardiac Arrest Diagram.
Click to view, and click again to close the diagram.
PALS Cardiac Arrest Diagram.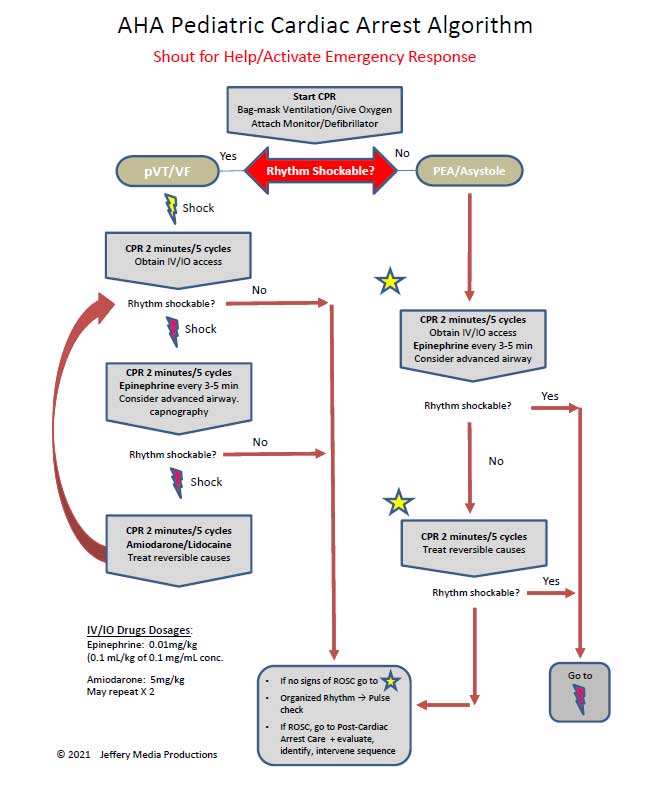 Ventricular fibrillation is always pulseless and must be confirmed by EKG or defibrillator monitor. Defibrillation is the treatment of choice and should occur as soon as possible.
The video below shows an example of what ventricular fibrillation will look like when you see it on the defibrillator monitor. Please allow several seconds for the video to load. (7.24mb)
Click for next Rhythm Review: Pulseless Electrical Activity
Top Questions Asked on This Page
Q: Why does it say VFib is always pulseless? My thinking is an organized rhythm with no pulse will be PEA, then should be treated as on R branch of the cardiac arrest algorithm.

A: Ventricular fibrillation is not an organized rhythm. It is a chaotic and disorganized rhythm. There is no organization to the rhythm. There are no p-waves and no QRS complexes.
---
Q: Which concentration of Lidocaine is given intravenously in ACLS considering that there is the local anesthetic as well. Is the 2% safe?

A: Typically, lidocaine for IV infusion is mixed 2000 mg lidocaine in 500 ml. This works out to a 4 mg/ml dilution.
Two percent lidocaine is a 20 mg/ml. This 20 mg/ml would need to be diluted to obtain the 4 mg/ml dilution.
You would not want to give 2% lidocaine without diluting to 4 mg/ml.
---
Q: When does the sodium bicarb injection need to be administered and when does the lidocaine IV need to be administered?

A: Here is the AHA position on Sodium Bicarbonate:
"In some special resuscitation situations, such as preexisting metabolic acidosis, hyperkalemia, or tricyclic antidepressant overdose, bicarbonate can be beneficial (see Part 10: Special Circumstances of Resuscitation).
However, routine use of sodium bicarbonate is not recommended for patients in cardiac arrest."
Here is the AHA position for Lidocaine:
"There is inadequate evidence to support the routine use of lidocaine after cardiac arrest. However, the initiation or continuation of lidocaine may be considered immediately after ROSC from cardiac arrest due to VF/pVT.
Lidocaine may be considered as an alternative to amiodarone for VF/pVT that is unresponsive to CPR, defibrillation, and vasopressor therapy.
---
Click to view more top questions