Ventricular fibrillation (VF) occurs when there are uncoordinated contractions within the ventricles of the heart. The primary cause of VF is hypoxia (lack of oxygen) to the heart muscle, which causes hyperirritability in the cardiac muscle tissue.
As a result, multiple muscle cells within the ventricles simultaneously fire as pacemakers causing a quivering or fibrillation that is ineffective for adequate cardiac output.
The two images above show what ventricular fibrillation will look like on an EKG rhythm strip.
VF can rapidly lead to heart muscle ischemia, and there is a high likelihood that it will deteriorate into asystole.
Ventricular fibrillation is treated using the left branch of the cardiac arrest algorithm. Click below to view the cardiac arrest algorithm diagram. When done click again to close the diagram. Cardiac Arrest Algorithm Diagram.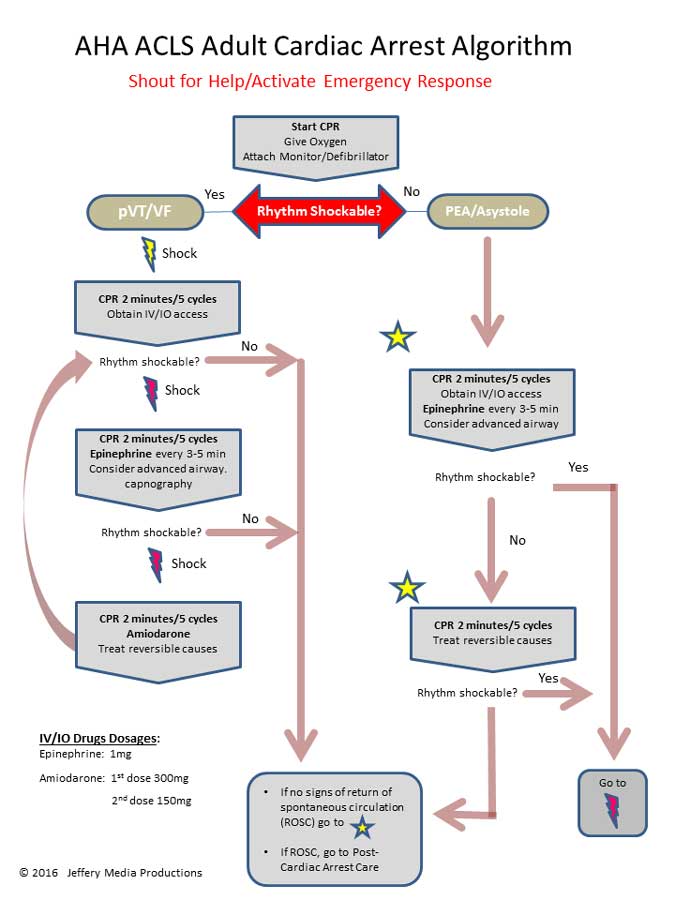 Click to view, and click again to close the diagram. PALS Cardiac Arrest Algorithm Diagram.
Ventricular fibrillation is always pulseless and must be confirmed by EKG or defibrillator monitor. Defibrillation is the treatment of choice and should occur as soon as possible.
The video below shows an example of what ventricular fibrillation will look like when you see it on the defibrillator monitor. Please allow several seconds for the video to load. (7.24mb)
Click for next Rhythm Review: Pulseless Electrical Activity
Top Questions Asked on This Page
Q: Why does it say VFib is always pulseless? My thinking is an organized rhythm with no pulse will be PEA, then should be treated as on R branch of the cardiac arrest algorithm.

A: Ventricular fibrillation is not an organized rhythm. It is a chaotic and disorganized rhythm. There is no organization to the rhythm. There are no p-waves and no QRS complexes.

---

Q: Which concentration of Lidocaine is given intravenously in ACLS considering that there is the local anesthetic as well. Is the 2% safe?

A: Typically, lidocaine for IV infusion is mixed 2000 mg lidocaine in 500 ml. This works out to a 4 mg/ml dilution.
Two percent lidocaine is a 20 mg/ml. This 20 mg/ml would need to be diluted to obtain the 4 mg/ml dilution.
You would not want to give 2% lidocaine without diluting to 4 mg/ml.

---

Q: When does the sodium bicarb injection need to be administered and when does the lidocaine IV need to be administered?

A: Here is the AHA position on Sodium Bicarbonate:
"In some special resuscitation situations, such as preexisting metabolic acidosis, hyperkalemia, or tricyclic antidepressant overdose, bicarbonate can be beneficial (see Part 10: Special Circumstances of Resuscitation).
However, routine use of sodium bicarbonate is not recommended for patients in cardiac arrest."
Here is the AHA position for Lidocaine:
"There is inadequate evidence to support the routine use of lidocaine after cardiac arrest. However, the initiation or continuation of lidocaine may be considered immediately after ROSC from cardiac arrest due to VF/pVT.
Lidocaine may be considered as an alternative to amiodarone for VF/pVT that is unresponsive to CPR, defibrillation, and vasopressor therapy.

---

Q: We dose Epinephrine as soon as possible. What is right? Should you wait to give epi after two cycles of CPR, or give it as soon as possible?

A: Technically, epinephrine should be given after the 2nd shock during CPR (for pulseless VT/VF).
As long as the emphasis is on high-quality CPR and early defibrillation, it is ok to give the epinephrine asap. Just realize that AHA sets guidelines that are rigid for the purpose of standardization, and in a real scenario when a dynamic team is working in coordination, things may be done simultaneously.
For AHA testing, give epinephrine after the 2nd shock during CPR (pulseless VF/VT). According to the guidelines, epinephrine may be given asap for asystole and PEA.

---

Q: The video says to give EPI after the second shock and then every 3-5 minutes. But then it says to give amiodarone after the 3rd shock. Are we giving EPI and amiodarone at the same time if the EPI is every 3 to 5 minutes, or do we stop giving EPI once we start giving the amiodarone?

A: After the first dose of epinephrine, the epinephrine is on its own timetable and can be given every 3-5 minutes regardless of what antiarrhythmics are given after this. You can give the amiodarone and epinephrine back to back after the 3rd shock. Or you can give the second dose of EPI after the 4th shock. There should be someone watching the time and calling out when the EPI can be given. Make sure that you follow the EPI with 20 ml of NS and also ensure that high-quality CPR is being provided.

---

Q: How can you tell for sure the difference between asystole and Vfib that looks like asystole in a monitor or defib monitor?

A: It can be difficult to differentiate asystole from fine VF. If the cardiac arrest is sudden and you see immediate asystole after the collapse, you may suspect fine VF. Asystole means the heart is dead. A heart becoming dead takes time.
The longer cardiac arrest progresses, the more likely the chances that an isoelectric or nearly isoelectric line is asystole.

---

Q: Please explain to me something about epinephrine and amiodarone in the case of cessation of cardiac contractions. How do the drugs reach systemic circulation?

A: When you perform uninterrupted, high-quality chest compressions, you will move the medications to the central circulation. Chest compressions take the place of the cardiac contractions.

---

Q: What would be your very first action if you have pulseless VT?
The answer was defibrillation first, and yet, the algorithm says to start C.P.R. first.

A: If the patient is attached to the defibrillator, then the first action would be defibrillation. If the defibrillator is not attached, then you would start CPR and defibrillate as soon as possible.

---

Q: Is it ok to give shock even if the patient is conscious, or do we need to sedate the patient first?

A: It is ok to give a shock to a patient that is conscious. It is not preferred, but in an emergency, it can be done. I have seen this done several times.
Also, some people have internal defibrillators that shock them when their heart goes into VT.
It is not a pleasant feeling, and light sedation is preferred.

---

Q: If Vfib is pulseless, then why is it shockable? Why wouldn't we follow the right side of the algorithm?

A: VF and Pulseless VT are treated using the left branch of the pulseless arrest algorithm. Both VF and pulseless VT respond quite well to defibrillation, and the left branch of the cardiac arrest algorithm has proven to be the most effective method of treatment for VF.

---

Q: Is it safe to deliver a shock when the patient is receiving oxygen?

A: As long as the oxygen is not blowing directly across the chest, it is ok to shock the patient. The risk of arching if quite low of pads are correctly connected.