This rhythm review is part of a comprehensive ACLS training course. After completing the full course, you will participate in real codes with confidence, and you will ace the AHA ACLS provider course. Register HERE to take the full course.
Ventricular fibrillation or VF occurs when there are uncoordinated contractions within the ventricles of the heart. The primary cause of VF is hypoxia (lack of oxygen) to the heart muscle which causes hyperirritability in the cardiac muscle tissue.
As a result, multiple muscles cells within the ventricles simultaneously fire as pacemakers causing a quivering or fibrillation that is ineffective for adequate cardiac output.
The two images above show what ventricular fibrillation will look like on a EKG rhythm strip.
VF can rapidly lead to heart muscle ischemia and there is a high likelihood that it will deteriorate into asystole.
Ventricular fibrillation is treated using the left branch of the cardiac arrest arrest algorithm. Click below to view the cardiac arrest algorithm diagram. When done click again to close the diagram.
Cardiac Arrest Algorithm Diagram.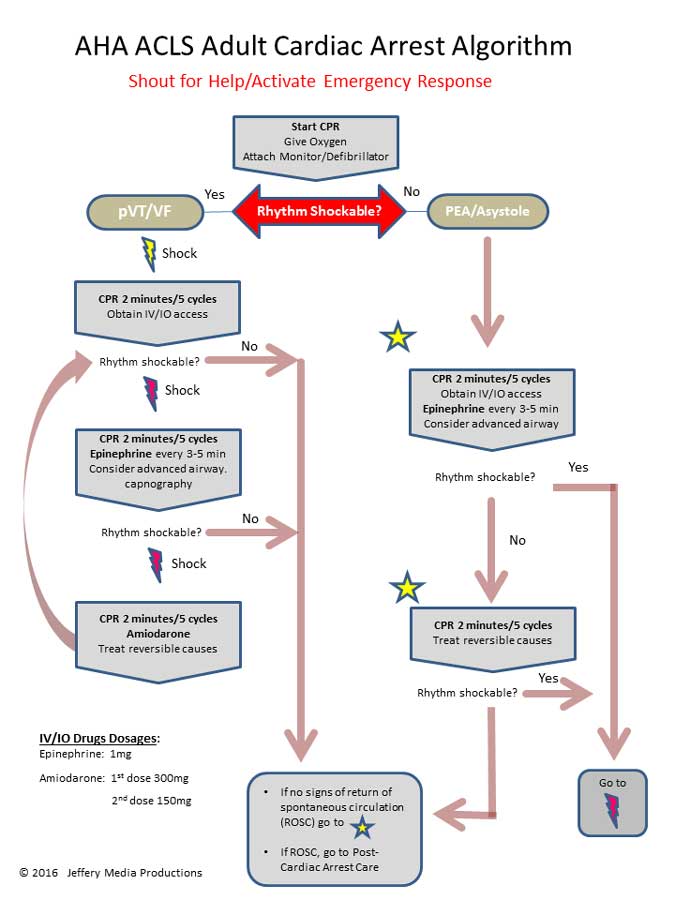 Click to view, and click again to close the diagram. PALS Cardiac Arrest Algorithm Diagram
Ventricular fibrillation is always pulseless and must be confirmed by EKG or defibrillator monitor. Defibrillation is the treatment of choice and should occur as soon as possible.
The video below shows an example of what ventricular fibrillation will look like when you see it on the defibrillator monitor. Please allow several seconds for the video to load. (7.24mb)
Click Here to Enroll for Complete Training with Practice Tests, Videos, Megacode Scenarios, and More.
Click for next Rhythm Review: Pulseless Electrical Activity