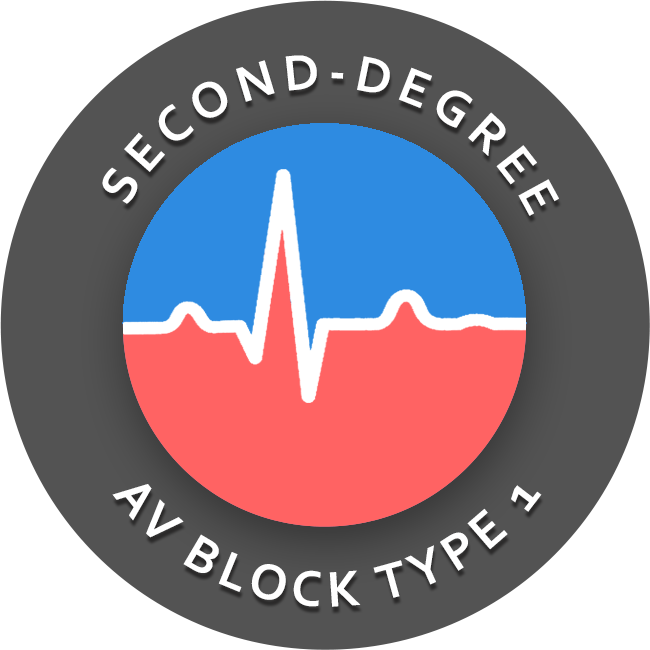 Second degree heart block which is also called Mobitz 1 or Wenckebach is a disease of the electrical conduction system of the heart in which the has progressive prolongation until finally the atrial impulse is completely blocked and does not produce a QRS electrical impulse.
Once the p-wave is blocked and no QRS is generated, the cycle begins again with the prolongation of the PR interval.
One of the main identifying characteristics of second-degree AV block (Type 1) is that the atrial rhythm will be regular.
In the above image, notice that the p-waves are regular, the PR-interval progressively gets longer until a QRS is dropped and only the p-wave is present.
PR Interval

The PR interval is the electrical firing of the atria and conduction of that electrical impulse through the AV node to the ventricles.
Although second-degree AV block (Type 1) is not typically clinically significant for ACLS, recognition of the major AV blocks is important because treatment decisions are based on the type of block present.
Second-degree AV block (Type I) may be a normal variant in the conduction system of the heart and is usually due to a reversible conduction block at the level of the AV node. There are several disorders that can cause Second-degree AV block (Type I). The most common causes are listed below:

Causes of Second-degree AV block (Type I):
Increased vagal tone (well trained athlete)
Medications that inhibit AV node conduction (amiodarone, beta-blockers, calcium channel blockers, digoxin)
Myocarditis caused by infections
Hypoxemia (see more in infants and children)
Cardiac surgery
Myocardial infarction
Any condition that stimulates vagal tone
Below is a short video which will help you quickly identify second-degree AV block (Type 1) on a monitor. Please allow several seconds for the video to load. (3.69 mb)
Click for Next Rhythm Review:
Second Degree AV Block (Type II)
Top Questions Asked On This Page
Q: In second degree AV block what is the meaning of "QRS dropped?" Does it mean less than 3 square?

A: It means that the QRS is not present. You will most likely see a p-wave but no QRS. The impulse that is produced in the SA node (p-wave) is not transferred through the AV node, and therefore no QRS wave is seen on the monitor.

---

Q: With 2nd-degree Type I, is atropine warranted or should we go straight to pacing?

A: Atropine should come before the application of pacing as long as the administration of atropine will not delay the use of pacing in an unstable patient.

---

Q: Why would the ventricle not fire a beat following the AV node non-conductive beat/ p wave non-conductive beat?

A: 2nd Degree Block Type 1 (Mobitz I) is usually due to a reversible conduction block at the level of the AV node. Some of the reversible causes are caused by medications such as beta-blockers, calcium channel blockers, and digoxin. Other reasons are inferior MI, myocarditis, increased vagal tone, and post heart surgery.
The AV node cells are malfunctioning, and they tend to fatigue progressively until they fail to conduct an impulse.

---

Click to view more top questions

[This content is available for registered users.]