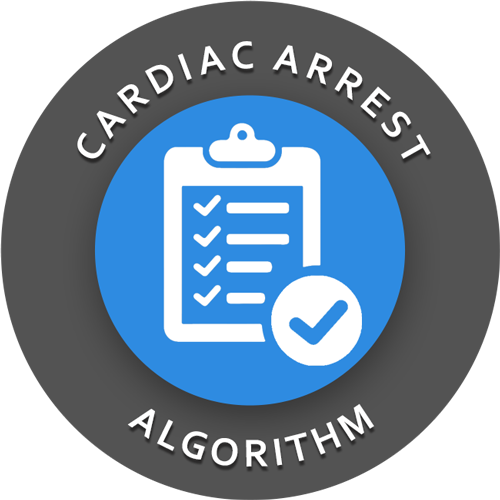 The Cardiac Arrest Algorithm takes its place as the most important algorithm in the ACLS Protocol. There are 4 rhythms that are seen with pulseless cardiac arrest. They each will be reviewed throughout this section of the course guide. These four rhythms are pulseless ventricular tachycardia (VT), ventricular fibrillation (VF), asystole, and pulseless electrical activity (PEA).
Click below to view the cardiac arrest algorithm diagram. When done click again to close the diagram.
Cardiac Arrest Diagram
The majority of patients that experience sudden cardiac arrest will be treated with the Cardiac Arrest Algorithm. Therefore, mastery of this algorithm is very important. There are 2 branches of the Cardiac Arrest Algorithm, the left, and right branch.
The LEFT BRANCH is used for the treatment of pulseless ventricular tachycardia and ventricular fibrillation,and the RIGHT BRANCH is used for the treatment of PEA and Asystole.
Medications for Cardiac Arrest
There are 3 medications that will be focused on within the Cardiac Arrest Algorithm, epinephrine, amiodarone, and Lidocaine. Magnesium will be mentioned briefly.
Epinephrine
Epinephrine is the primary drug used in the cardiac arrest algorithm. It is used for its potent vasoconstrictive effects and also for its ability to increase cardiac output. Epinephrine is considered a vasopressor.
Indications for Cardiac Arrest
Vasoconstriction effects: epinephrine binds directly to alpha-1 adrenergic receptors of the blood vessels (arteries and veins) causing direct vasoconstriction, thus, improving perfusion pressure to the brain and heart.
Cardiac Output: epinephrine also binds to beta-1-adrenergic receptors of the heart. This indirectly improves cardiac output by:
Increasing heart rate
Increasing heart muscle contractility
Increasing conductivity through the AV node
Routes
During ACLS, epinephrine can be given 3 ways: intravenous; intraosseous, and endotracheal tube. The primary method used is intravenous. When given intravenously, always follow the IV push with a 20 ml normal saline flush.
Dosing
Intravenous Push/IO: 1mg epinephrine IV is given every 3-5 minutes.
Note: There is no clinical evidence that the use of epinephrine when used during cardiac arrest, increases rates of survival to discharge from the hospital. However, studies have shown that epinephrine and vasopressin improve rates of ROSC (return of spontaneous circulation).
Amiodarone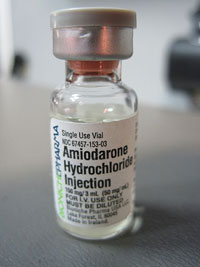 Indications for ACLS
Amiodarone is an antiarrhythmic that is used to treat both supraventricular arrhythmias and ventricular arrhythmias.
The mechanism of action of amiodarone remains unknown, but within the framework of ACLS, amiodarone is used primarily to treat ventricular fibrillation and ventricular tachycardia that occurs during cardiac arrest and is unresponsive to shock delivery, CPR, and vasopressors.
Amiodarone should only be used after defibrillation/cardioversion and epinephrine have failed to convert VT/VF.
Route
Amiodarone can be administered by intravenous or intraosseous route.
Dosing
The maximum cumulative dose in a 24 hour period should not exceed 2.2 grams.
Within the VT/VF pulseless arrest algorithm, the dosing is as follows:
300mg IV/IO push → (if no conversion) 150 mg IV/IO push → (after conversion) Infusion #1 360 mg IV over 6 hours (1mg/min) → Infusion #2 540 mg IV over 18 hours (0.5mg/min)
Infusions exceeding 2 hours must be administered in glass or polyolefin bottles containing D5W.
Amiodarone should only be diluted with D5W and given with an in-line filter.
Lidocaine
Lidocaine is an antiarrhythmic that can also be used and is considered equivalent to amiodarone in the treatment of ventricular fibrillation or pulseless ventricular tachycardia.
Dosing
Provide an initial dose of 1-1.5 mg/kg IV or IO. If pVT or VF persists the lidocaine may be repeated at 0.5-0.75 mg/kg over 5 to 10 minute intervals.
The maximum total dosage of lidocaine is 3 mg/kg.
Magnesium Sulfate
Magnesium sulfate can be used during cardiac arrest primaryly to treat torsades de pointes that is caused by a low serum magnesium level.
Dosing
Provide an initial dose of 1-2 grams IV or IO diluted in at least 10 ml of NS. Give the dose over 5 minutes.
Watch Part 1 and Part 2 of the Cardiac Arrest Video Review.
Within ACLS Protocol, there is also a Simplified Cardiac Arrest Algorithm that simplifies and streamlines uncomplicated cardiac arrest. Use this link to watch a short video that reviews the 2015 Simplified Cardiac Arrest Algorithm.
Top Questions Asked on This Page
Q: Can precordial thump still be used for witnessed arrest?

A: This is the AHA position and it has not changed since 2010. "The precordial thump may be considered for termination of witnessed monitored unstable ventricular tachyarrhythmias when a defibrillator is no immediately ready for use, but should not delay CPR and shock delivery. There is insufficient evidence to recommend for or against the use of the precordial thump for witnessed onset of asystole.

---

Q: How fast do you push the Amiodarone 300mg?

A: In a cardiac emergency, you will push amiodarone as fast as you can push the plunder of the syringe. Essentially the same as you would push any drug in a cardiac emergency.

---

Q: I keep getting confused about when to return to administration of epinephrine following the initial dose and admin of 300/150 amiodarone…is it based on time (q 3-5 min)? Any suggestions on how to keep this straight?

A: After the first dose of epinephrine, it is essentially on its own time table. Just remember to give epinephrine every 3-5 minutes after the first dose. Amiodarone is given after the 3rd (300mg) shock and any time after 4th (150mg) shock.

---

Q: If you give precordial thump, is it given just once?

A: Yes, the precordial thump is attempted only one time. it is effective only if used near the onset of VF or pulseless VT, and so should be used only when the arrest is witnessed or monitored and only at the outset. . About 25% of patients in cardiac arrest who received a thump on the precordium regained cardiac function according to one study. There is no evidence that the precordial thump improves recovery in unwitnessed cardiac arrest.
---
Click to view more top questions

[This content is available for registered users.]