ACLS and Vasopressin
Vasopressin has been removed from the AHA ACLS Cardiac Arrest Algorithm and is no longer used in ACLS protocol.
Clinical studies have shown that both epinephrine and vasopressin are effective for improving the chances of return of spontaneous circulation during cardiac arrest.
The removal was due to the fact that there is no added benefit from administering both epinephrine and vasopressin as compared with administering epinephrine alone, and in order to simplify the algorithm, vasopressin was removed.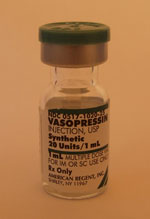 Vasopressin is a primary drug used in the pulseless arrest algorithm. In high concentrations, it raises blood pressure by inducing moderate vasoconstriction, and it has been shown to be more effective than epinephrine in asystolic cardiac arrest (Wenzel V, Krismer AC, Arntz HR, Sitter H, Stadlbauer KH, Lindner KH (January 2004). "A comparison of vasopressin and epinephrine for out-of-hospital cardiopulmonary resuscitation". N. Engl. J. Med. 350 (2): 105–13. doi:10.1056/NEJMoa025431. PMID 14711909.)
One major indication for vasopressin over epinephrine is its lower risk for adverse side effects when compared with epinephrine. With epinephrine, some studies have shown a risk of increased myocardial oxygen consumption and post arrest arrhythmias because of an increase in heart rate and contractility (beta 1 effects). Vasopressin also is thought to cause cerebral vessel dilation and theoretically increase cerebral perfusion.
Trivia: Another name for vasopressin is antidiuretic hormone (ADH).
Routes
Vasopressin may be given IV/IO or by endotracheal tube.
Dosing
40 units of vasopressin IV/IO push may be given to replace the first or second dose of epinephrine, and at this time, there is insufficient evidence for recommendation of a specific dose per the endotracheal tube.
In the ACLS pulseless arrest algorithm, vasopressin may replace the first or second dose of epinephrine.