When vagal maneuvers fail to terminate stable narrow-complex SVT, the primary medication of choice is adenosine. For the unstable patient with a regular and narrow QRS complex, adenosine may also be considered prior to synchronized cardioversion.
Adenosine is the primary drug used in the treatment of stable narrow-complex SVT (Supraventricular Tachycardia). Now, adenosine can also be used for regular monomorphic wide-complex tachycardia.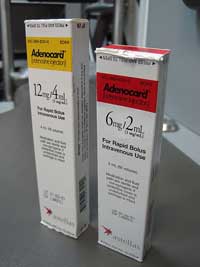 When given as a rapid IV bolus, adenosine slows cardiac conduction particularly affecting conduction through the AV node. The rapid bolus of adenosine also interrupts reentry (SVT causing) pathways through the AV node and restores sinus rhythm in patients with SVT.
When injected into the body, adenosine is rapidly absorbed by red blood cells and blood vessel endothelial cells and metabolized for natural uses throughout the body. In light of this adenosine should be administered by RAPID intravenous bolus so that a significant bolus of adenosine reaches the heart before it is metabolized.
A change from the 2010 guidelines now has adenosine given up to two times rather than three.
Dosing
The first dose of adenosine should be 6 mg administered rapidly over 1-3 seconds followed by a 20 ml NS bolus. If the patient's rhythm does not convert out of SVT within 1 to 2 minutes, a second 12 mg dose may be given in a similar fashion. All efforts should be made to administer adenosine as quickly as possible.
A lower initial dose of 3mg should be used for patients taking dipyridamole or carbamazepine as these two medications potentiate the effects of adenosine.
Also, prolonged asystole has been seen with the use of normal doses of adenosine in heart transplant patients and central line use. Therefore, the lower dose (3mg) may be considered for patients with a central venous line or a history of heart transplant.
Precautions
Some side effects of adenosine administration include flushing, chest pain/tightness, brief asystole or bradycardia.
Make sure that adenosine is not used for irregular, polymorphic wide-complex tachycardia and unstable VT. Use in these cases may cause clinical deterioration.
Return to ACLS Drugs Main Page.