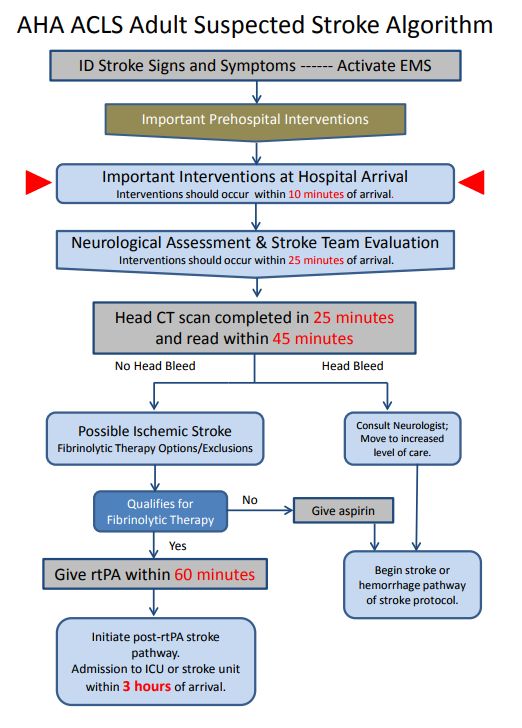 Interventions Within 10 Minutes of Arrival
The receiving hospital should have a written plan for receiving and treating suspected stroke victims. Any plan should emphasize minimizing the delay in diagnosis and treatment of the patient.
Once a suspected stroke patient has arrived at the emergency department (ED), they should be assessed by a qualified healthcare professional within 10 minutes.
Interventions and assessment that should take place after arrival to the ED include:
Neurological Screening: The neurological screening should be performed within 10 minutes of arrival. The NIH stroke scale is a 15 item screening tool used to determine stroke and stroke severity. The neurologic screening (NIH stroke scale) is more complex than the Cincinnati Stroke Scale that is used in the out-of-hospital setting.
Order Head CT scan: After obtaining a positive stroke screening, the head CT scan should be ordered. No other interventions that are non-life threatening should delay the CT scan, and the scan should be read by a qualified physician ASAP.
Assess and treat ABC's: Upon arrival airway maintenance and cardiovascular status should be assessed and monitored to rule out any underlying life-threatening conditions. Interventions should include a 12-lead ECG to rule out myocardial infarction and arrhythmias. Apply oxygen if necessary to maintain oxygen saturation greater than 94%. Also, IV access can be established at this time if not already completed.
Activate the stroke team or qualified expert: By the time that the CT scan is completed, the stroke team should be ready to perform the rest of the interventions in the stroke pathway if indicated. These interventions include: reading the CT, full neurological assessment, administration of fibrinolytic therapy, and admission to a stroke unit.
Blood Glucose: If not completed prior to ED arrival, a blood glucose should be obtained to rule out hypoglycemia.
All of the above interventions should take place within 10 minutes of hospital arrival.