This rhythm review is part of a comprehensive ACLS training course. After completing the full course, you will participate in real codes with confidence, and you will ace the AHA ACLS provider course. Register HERE to take the full course.
PEA rhythm occurs when any organized heart rhythm that is observed on the electrocardiogram (ECG) does not produce a pulse. PEA can come in many different forms. Sinus Rhythm, tachycardia, and bradycardia can all be seen with PEA.
Performing a pulse check after a rhythm/monitor check will ensure that you identify PEA in every situation.
Pulseless electrical activity usually has an underlying treatable cause. The most common causes for PEA in emergency situations are hypovolemia and hypoxia.
PEA is treated by assessing and correcting the underlying cause. These causes can be summed up in the 5 H's and 5 T's of ACLS. Use the link to review the H's and T's.
PALS H & T's are covered throughly in another area.
When an underlying cause for pulseless electrical activity cannot be determined, PEA should be treated in the same fashion as asystole
Pulseless electrical activity is treated using the right branch of the cardiac arrest algorithm. Click below to view the cardiac arrest algorithm diagram. When done click again to close the diagram.
Cardiac Arrest Algorithm Diagram.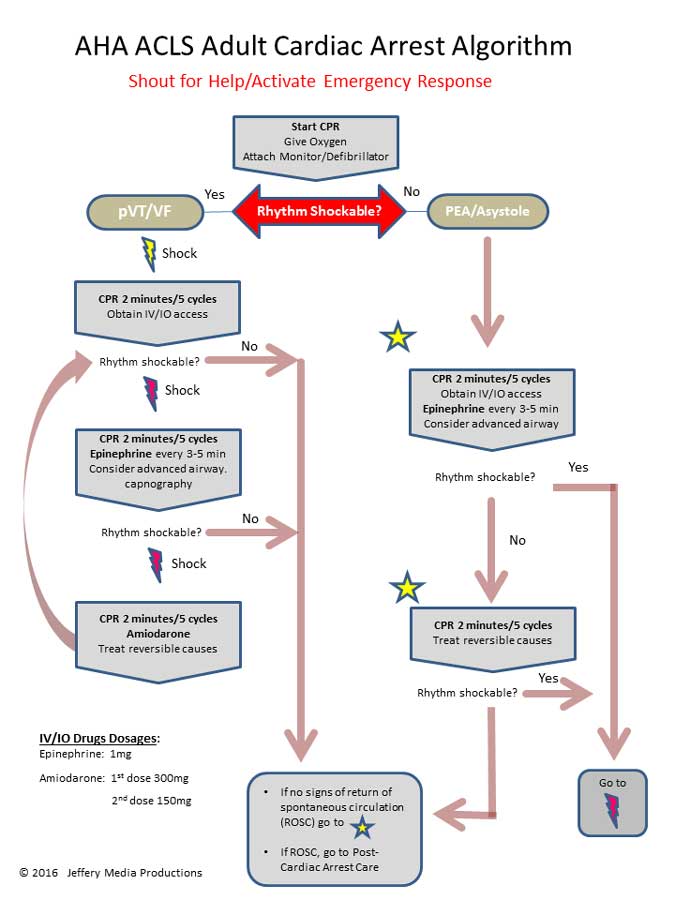 Click to view, and click again to close the diagram. PALS Cardiac Arrest Algorithm Diagram
In the following video, PEA is depicted on the defibrillator monitor and suggestions for treatment are given. Please allow several seconds for the video to load. (7.24 mb)
Pop-Quiz:
Question #1: If you saw the rhythm below after defibrillation, how would you determine if it is pulseless electrical activity?


click here for answer
You should check for a carotid or femoral pulse
Question #2: What are the two most common causes of PEA?
click here for answer
Hypovolemia and Hypoxia
Click Here to Enroll for Complete Training with Practice Tests, Videos, Megacode Scenarios, and More.
Click for next Rhythm Review: Asystole
Top Questions Asked On This Page
Q: By looking at the strip on this page, how would I know it is pulseless?

A: You would not be able to tell whether a rhythm is pulseless by looking at the rhythm strip. You would have to physically check for a pulse by performing a pulse check. Also, the patient would be unresponsive.

---

Q: What about PEA and hypovolemia? ATLS says chest compressions in this setting are ineffective.

A: This is why early identification of the cause of PEA using the H's and T's is essential. Early identification and treatment of hypovolemia will likely result in a reversal of the PEA.

---

Q: What is the difference between pulseless electrical activity (PEA) and pulseless VT? How to recognize and diagnose PEA and pulseless VT? And why they are treated differently in the ACLS algorithm?

A: PEA is any organized rhythm that does not have a pulse. This would be treated with the right branch of the cardiac arrest algorithm.
Pulseless VT can technically be considered a type of PEA except it responds very well to high energy unsynchronized shocks. In light of this, the American Heart Association include the treatment for pulseless VT in the left branch of the cardiac arrest algorithm along with ventricular tachycardia. This is why VT is not considered PEA within the framework of advanced cardiac life support.

---

Q: Is pulseless SVT considered as pea?

A: Pulseless SVT is considered PEA and should be treated using the right branch of the cardiac arrest algorithm.
Pulseless VT has a wide QRS complex with the electrical impulse generated within the ventricles.
The electrical impulse of SVT is supraventricular and this is the reason why it is treated as PEA and not pulseless VT.

---

Q: For PEA we use the asystole algorithm. Therefore no HR is officially charted? In code sequences, when a pulse cannot be confirmed, should the HR not be documented?

A: It should be documented something like this. "PEA (type of rhythm present) and rate of the electrical impulse."
The reason for this is there are different causes of PEA and this can affect the rhythm that is seen with the electrical impulse.
You are correct that this should not be included as a vital sign, but it should be documented.

---

Q: The patient had a shock because of VF, after the 5 cycles of CPR, he has sinus rhythm but no pulse (PEA).
Should I keep giving CPR and adrenaline until the patient gets a pulse? While I am looking for reversible causes, should I go on with CPR and adrenaline? Or if I think it`s because of hypovolemia, should I only give solutions?

A: Yes, continue CPR and adrenaline while you are looking for other causes. If you think that the cause is hypovolemia, you can give a fluid bolus. Probably 500 to 1000 mL.

---

Q: What does the PEA tracing look like?

A: A PEA tracing can look like just about any rhythm. Bradycardia would probably be one of the more common rhythms seen with PEA.

---

Q: Wouldn't a narrow complex tachycardia be the most common rhythm (or any tachycardia)? The way I am thinking about it is that hypoxemia and hypovolemia, being the most common causes, would cause tachycardia (increase the CO to deliver more oxygen and respectively blood) so tachycardia would be a more commonly observed rhythm.

A: In my professional experience, I have seen PEA present as bradycardia (r/t hypoxia) more often than narrow complex tachycardia. I have not dealt with much trauma through my professional career, and so I cannot speak from this perspective.

---

Q: I had a patient who arrested due to septic shock with hypotension. She had a heart rate of 132/min. It was sinus tachycardia with no pulse. What rhythm can it be?

A: The rhythm is PEA. In this case, you would use the right branch of the cardiac arrest algorithm and also treat the cause of the PEA. It sounds like the cause would be septic shock and resulting hypotension.

---

Q: If a patient has no pulse, no BP and monitor shows tachycardia, can we say that monitor is showing sinus tachycardia rate of 130?

A: No, you would say that the patient was in PEA with a tachycardia rate.
You could classify this as pulseless ventricular tachycardia, but the rate is a bit slow. Any organized rhythm without a pulse is called PEA except for VT.

---

Q: Let's say I am not with the patient at the moment, how do I know the pt. has no pulse if he is doing well on the monitor? Is the monitor able to show me "0" pulse?

A: There is no way to tell that the patient has a pulse from just looking at a rhythm.
The monitor may show you other things that would indicate to you that the patient has a pulse. Many monitors have the capability of monitoring chest rise and fall.
If the chest is rising and falling, this is an indication of respiration. If the patient is breathing, then the patient has a pulse.
Also, many monitoring systems today have pulse oximetry which monitors oxygen saturation. The oxygen saturation level uses a detector that senses the blood pulsing through the cardiovascular system which is indicated by a waveform that shows the pulse rate. This would also indicate a pulse.
Again, if you are just looking at the rhythm, this will not tell you anything about whether a patient has a pulse or not.

---

Q: Will a bundle branch block make what is a narrow complex tachycardia look more like a wide complex tachycardia? Will this potentially lead down the wrong protocol path?

A: Yes, a BBB can make a narrow complex tachycardia look like a wide complex tachycardia. This is beyond the scope of basic ACLS. Here is a link to a very good article that provides detailed information regarding this issue.

---

Q: What is the clue that PEA is caused by a drug overdose?

A: Most common clues for drug-induced PEA would be the prolongation of the QT interval on ECG, empty bottles at the scene, pupils dilated or constricted and less reactive to light.